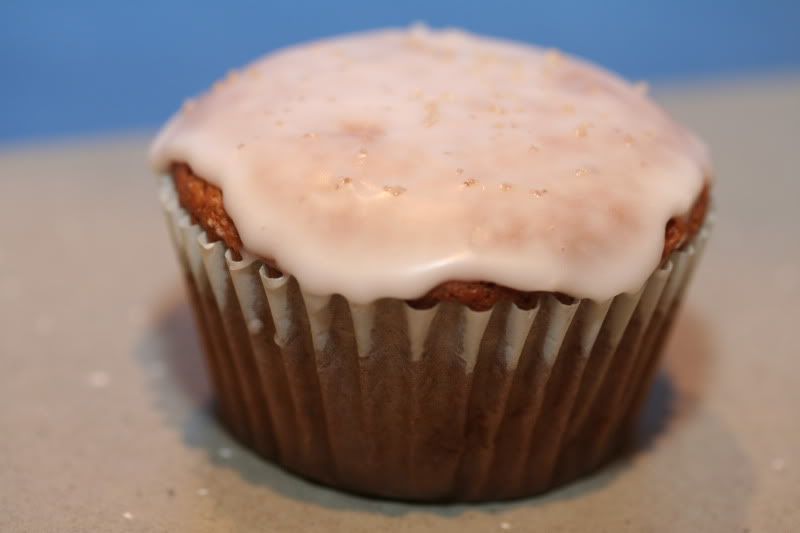 I love cupcakes. I love pomegranates. So, obviously my first response to seeing them in the store was, "Oh my God, I need to make pomegranate cupcakes!"
I used chiffon cake as the "base"; I feel like chiffon is the blank canvas of the cake world. The first attempt did not go well. I used POM juice and added some lemon zest and when the cupcakes came out they did not taste anything like pomegranate and
did
tasted suspiciously of lemon. I decided to reduce the remainder of the bottle of POM and see if I could get more flavor out of less weight. The second attempt was a success! The cupcake was light and airy and had a definite pomegranate taste. I didn't add any food coloring and the cake came out a strange shade of brown rather than reddish or pink.
Pomegranate Cuppycakes
Makes about 24 cupcakes

125g Cake Flour
100g Sugar
3g Salt
6g Baking Powder
62g Vegetable Oil
75g Egg Yolk
71g POM Syrup
12g Water
125g Egg Whites (Room temperature is best.)
62g Sugar
1g Cream of Tartar
Preheat oven to 375°F
Sift together the dry ingredients in a medium sized bowl. Whisk together the wet ingredients. While whisking the dry ingredients, slowly pour in the wet ingredients. (If you've made chiffon cake before, this will be slightly thicker than usual, due to the thicker pomegranate mixture.) Set aside. Whip egg white until foamy and then slowly add the sugar and cream of tartar in a steady stream while the mixer is still running. Whip to a stiff, glossy peak. Now... it is time for...
THE SACRIFICE
. Ahem. Take a small amount of the whipped egg whites and mix it into your flour mixture. You'll be destroying a lot of the hard won air bubbles in the whites, but you're also making it so that the flour mixture will more easily accept the rest of the whites. After you have this mixed together, gently fold in the rest of the whipped egg whites. Immediately portion batter into cupcake pans and bake about 18 minutes.
After allowing them to cool you can frost them however you see fit. I made a simple flat icing by putting some powdered sugar in a bowl and then adding enough water to get the consistency I wanted. After pouring a bit on the cupcakes, I sprinkled on some large granular vanilla sugar.