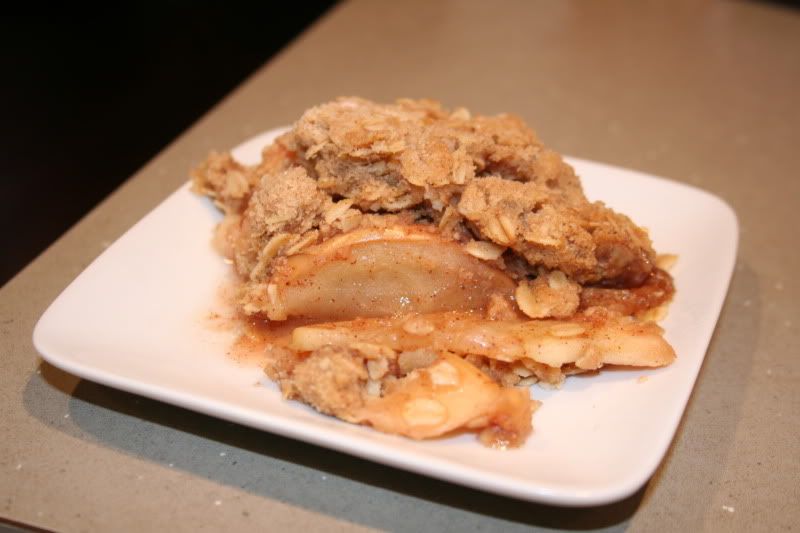 I love apples and apples are such a comforting, autumn-y food. I went for a walk and ended up at the grocery store the other day. I went in and bought a few apples and some oats and then went home and tossed things together. The result was an apple crumble.
Apple Crumble
3 apples (I used Fuji)
1/4 cup sugar
Juice of half a lemon
1/2 T Ground Cinnamon (That's also 1 1/2 t)
2 T Flour
1 cup Flour
1 1/2 cups rolled oats
1/2 cup packed brown sugar
1 T Ground Cinnamon
1 t Ground Cloves
1 stick/4 oz Cold butter; cubed.
Preheat oven to 350.
Core and slice apples to about 1/4 inch thickness. You can peel them if you want, but I'm of the opinion that the peel is the best part, so I left it on.
Toss together apples, sugar, lemon juice, 1/2 T of cinnamon, and 2T of flour. Pour into an ungreased 8X8 pan. Mix together flour, oats, brown sugar, cinnamon and cloves. Add cubes of butter to flour mixture. Using your hands rub the butter into the flour mixture, leaving small, pea sized bits of butter throughout the mixture. Spread this mixture over the top of the apples and bake for about 45 minutes.
I ate some of it the night I made it, but I mostly ate it for breakfast the next couple of days. Put it in the microwave for about 25 seconds and you're in apple heaven. It's good cold, too. Honestly, it reminds me of my mom's crumble topped apple pie, without the fuss of making the crust. The whole thing takes less than a half hour to throw together and then you just have to wait for it to bake.