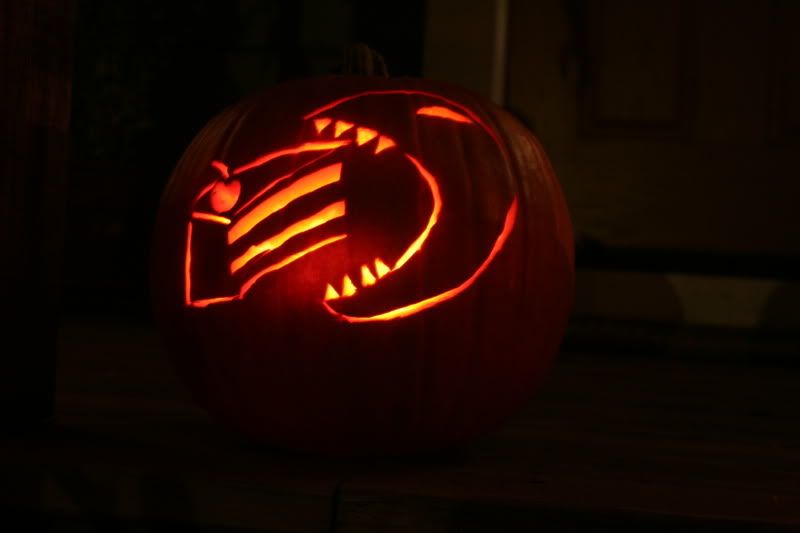 I love Halloween. It's not my favorite holiday, but it's up there. Everything about it delights me, the colors, the food, the gatherings, the kids and dressing up and I
love
giving out candy. Last year was my first year giving out candy since I moved to Portland and I was so disappointed by the lack of visitors. I'm from a small town, so we essentially had the whole town to trick-or-treat, it wasn't a "in the neighborhood" thing, and I found out last year that since I didn't live in a neighborhood with many children, I didn't get many visitors. This past summer we moved into a more family neighborhood; I swear there are 20 kids under 12 on our block alone and it's all houses, not apartments. So, I was very, very pleased this year, especially because about 75% of the kiddies were about 3 years old and absolutely adorable in their costumes.
Well, the boys that I live with had a D&D night on Halloween, and per tradition, I made dessert. I asked the boys what they wanted and got two answer: "Fruit tart!" from my boy and, "Cupcakes. No!
Brownies!
" from our roommie. So, I made both. I cringed a little at the hot house berries at the store, but I couldn't help myself and grabbed a thing of golden raspberries to go with the typical reds and strawberries.
I decided on cream cheese brownies so that I could dye the cream cheese orange! (I apologize in advance for the bouncing around of my measurement types. I have not gotten around to measuring the cups and so forth out on the recipes I've found in books and online.)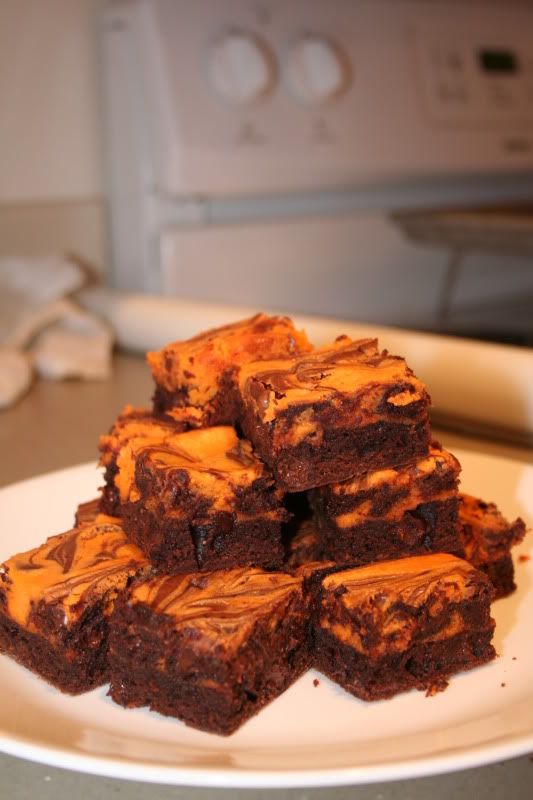 Cream Cheese Brownies
Preheat oven to 350 and lightly butter an 8"x8" pan.
For the cream cheese Swirl
6 ounces Cream Cheese
4 T Butter
1/2 C Sugar
2 Eggs
2 T AP Flour
1 t Vanilla Extract
Beat the cream cheese and butter together in a stand mixer with the paddle attachment, or with a hand mixer if that's what you use, until smooth. Scrape down the sides. Add sugar gradually until well blended. Scrape the sides. Add the eggs, with the mixer running, one at a time, allowing it to become incorporated before the next addition. Mix in flour and vanilla. Add orange food coloring if desired!
For the brownies
6 ounces Bitter Sweet Chocolate
3 T Butter
1/2 C Sugar
2 Eggs
1/2 c AP Flour
1/2 t Baking Powder
1/4 t Salt
2 t Vanilla (That's what the recipe says, but I just splash what looks about right in)
1 C Chocolate Chips
(You can put nuts in if you want, I did not.)
Melt the chocolate and sugar together and mix together; it will almost be like ganache. You can use a double boiler, I used the microwave. Allow to cool slightly. Whisk together the eggs and sugar until slightly thickened. Mix in the flour, baking powder, and salt. Then, mix in the chocolate mixture and the vanilla. Stir in the chocolate chips (and nuts, if you're going that route).
Pour about half the brownie batter into your prepared pan, add the cream cheese mixture in an even layer and then drop spoon fulls of brownie batter on top. With a toothpick or knife marble the top of the brownie. Bake for 40 minutes.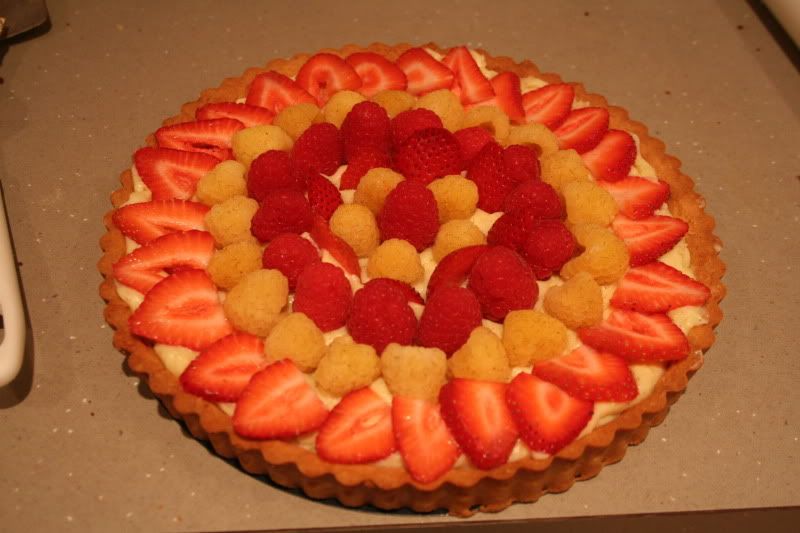 Fruit Tart
Pate Sucree (The tart shell)
I've misplaced my recipe, so from

Foodbeam

300g unsalted butter, at room temperature
190g icing sugar (Powdered)
60g ground almonds
seeds from 1 vanilla bean (I used 1 T vanilla bean paste, it's easier to get a hold of and cheaper)
2 eggs
500g flour
1 tsp fleur de sel
Cream the butter and sugar together until light and fluffy. Add the ground almonds and vanilla bean and incorporate completely. Add eggs one at a time, incorporating fully between additions. Stir in the flour and salt. Do not over work the dough, you don't want the gluten to develop very much. This dough will be fairly crumbly. Divide the dough into 3 pieces, mold into disks and wrap in plastic. You'll only need one, so you can put the other 2 in the freezer for up to a month! This way you don't have to go to the trouble next time! The third, you will use today. Place it in the fridge and allow to become firm. Roll out between two pieces of parchment paper until it is large enough to fill your tart pan. Return to fridge and let chill for a couple hours. Pull out of the fridge and fit into your tart pan. Franny at
Foodbeam
does a great job with photos to show exactly how to do this right. Allow your tart to chill again for at least 20 minutes. You're letting the gluten relax so that when you bake it, the dough doesn't shrink. Once it's chilled, heat your oven to 350 and bake until golden brown, about 20 minutes.
Pastry Cream
6 Eggs Yolks
100g Sugar
40g Cornstarch
500 ml Milk
1 T Vanilla Bean Paste
Whisk together egg yolks, sugar and cornstarch until light in color and fluffy. Heat milk and vanilla to a scald and remove from heat. While whisking slowly add hot milk to egg mixture, you're tempering the eggs here, and after whisking in about half the milk to the eggs, add the egg mixture to the saucepan with the remaining milk. Put on medium-high heat and bring to a boil, it will become thick very fast and you must stir constantly, scraping the bottom to prevent burning. Allow to boil for 2 minutes to cook out the starchiness. Pour into a bowl and cover with plastic wrap, put the plastic directly on the cream to prevent a skin. Put in the fridge and allow to cool completely.
To assemble the tart you'll need to cut up some fruit or use whole berries. I usually use strawberries, raspberries, and blackberries if they're available. The boy often makes me use hot house berries to feed his fruit tart addiction. Spread your chilled pastry cream into your cooled, baked pastry shell until it comes to just under the top of your shell. Layer your fruit on top and enjoy!